The COVID-19 Rapid Support Fund, created by Swiss Philanthropy Foundation, helps NGOs whose activities are impacted by the pandemic. Thanks to the strong mobilization of donors and a "matching-funds" mechanism by SPF, a fund of CHF 700,000 was raised in record time, making it possible to support organizations in the following countries: South Africa South, Brazil, Cambodia, Colombia, Lebanon, Uganda, Philippines and Vietnam in order to enable them to cover the salaries of their teams and to help underprivileged communities.
To measure the concrete impact this support represents for organizations and their communities, a webinar is organized each week, in the presence of a beneficiary organization and fund contributors. This moment of discussion is an opportunity to better understand the national and local context of NGOs, and to better understand the health and social economic issues that organizations face and the way in which they respond to them, thanks to the financial support received.
Back to the webinar organized on May 8, in the presence of representatives of the INSAN organization, in Lebanon: Lala Arabian, executive director and Charles Nasrallah, founder.
Thanks to the support received by the Rapid Support Fund and the flexibility of the association's team, Insan was able to provide emergency material assistance to more than 2,000 families with children and without income (food and hygiene) and ensure the presence of a group of volunteer nurses for home care of elderly or sick people.
Faced with this exceptional situation, Insan has taken measures and measures that are just as important, to react quickly and provide immediate support to vulnerable populations.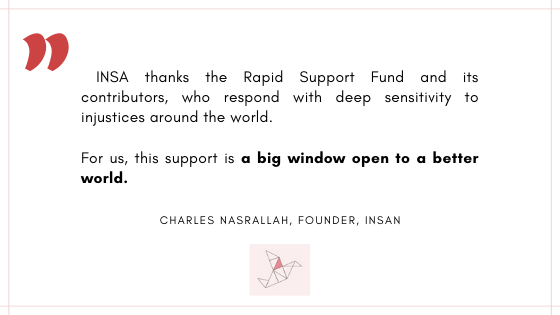 Important note : The organizations that benefit from this fund are already selected and meet the following criteria as approved by the Foundation Board:
These are exclusively organizations that benefit or have benefited in the past from SPF support through its thematic funds. Unfortunately, SPF cannot enter into the matter for other requests for funding and will not respond to other requests.