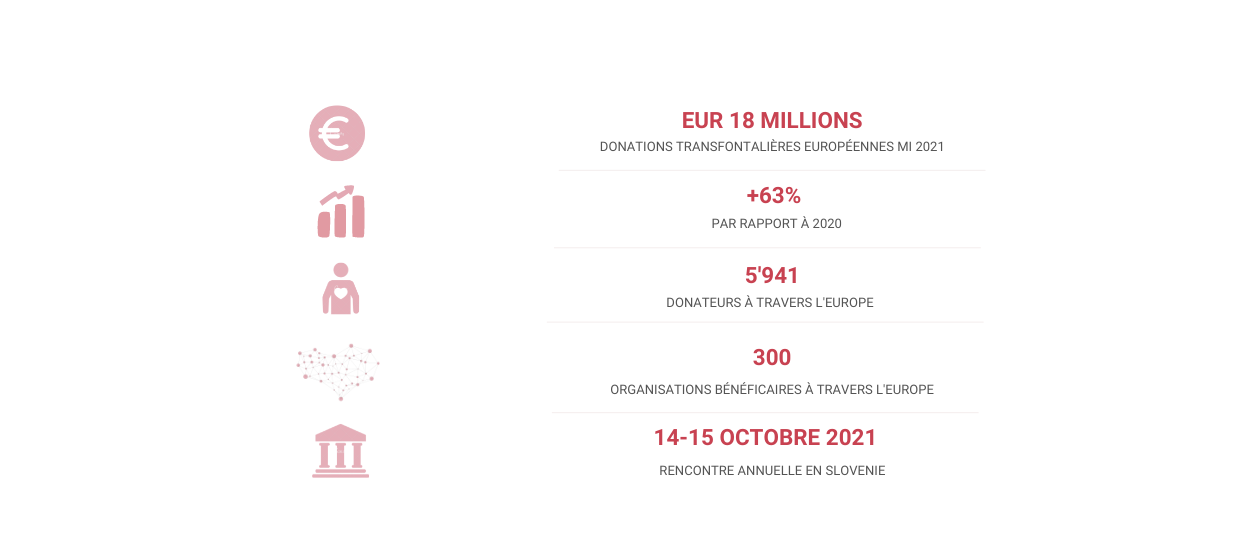 The desire to give has never been so strong and the figures confirm the trend of generosity initiated during the Covid-19 pandemic. With nearly 6,000 donors for approximately 18 million euros donated through the Transnational Giving Europe (TGE) network in the first half of 2021 alone, the figures of previous years are far exceeded: + 63% compared to the first half of 2020 and more than triple compared to the first half of 2019.
Switzerland is a reference in this cross-border philanthropy: Swiss Philanthropy Foundation, as the Swiss partner of the network, has accompanied on the one hand European cross-border donations in favor of Swiss organizations, and on the other hand nearly 90 donors based in Switzerland in the realization of their donations across Europe. The Foundation has thus contributed nearly 10 million euros, placing Switzerland in first place for outgoing donations and fourth place for incoming donations.
The month of October was also marked by the Annual Meeting of the TGE, which took place on October 14th and 15th 2021 in Ljubljana, Slovenia. Aïssata Traoré and Laurent Hostettler represented the Foundation. The meeting brought together the 19 TGE partners, both face-to-face and virtually, for two days of round tables and workshops. During this event, participants were able to review the latest figures and discuss the network's achievements and future developments in light of its growth. In particular, the digital evolution of the TGE and its operating efficiency were discussed on the basis of an evaluation of the network.
The interactive sessions organized during the meeting allowed the participants to exchange on these issues and to strengthen at the same time the ties between the different partners who were able to meet for the first time in person since the beginning of the pandemic.
For more information, we invite you to download our updated TGE-Guide, available in French, English and German.
We are also available for any questions: tge@swissphilanthropy.ch
Swiss Philanthropy Foundation © 2016