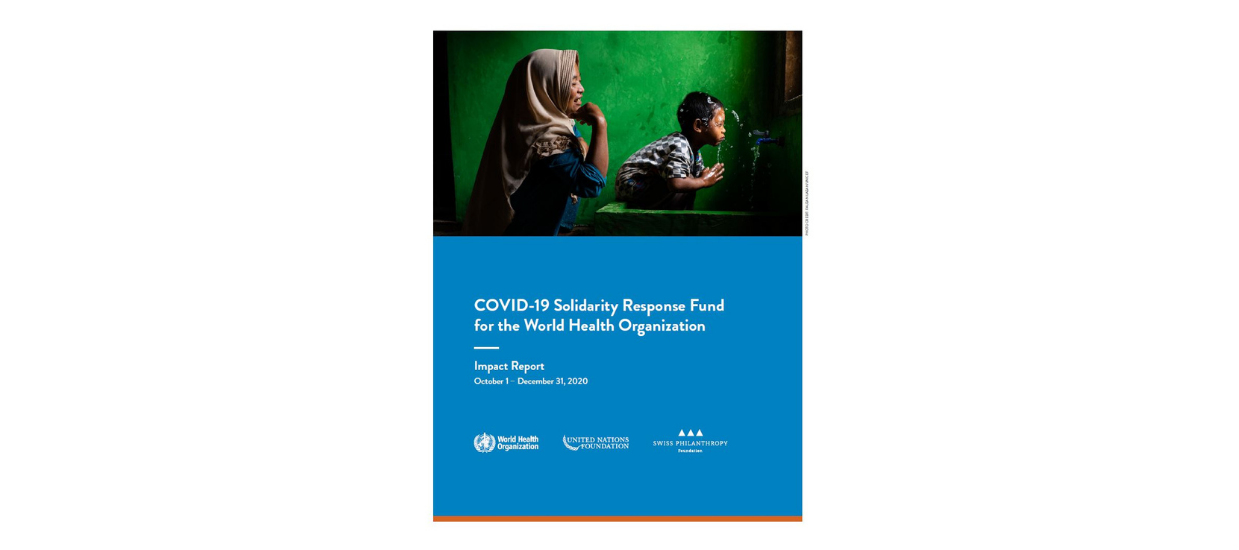 The fifth COVID-19 Solidarity Response Fund Impact Report is available and looks back on the Fund's allocations from October 1 to December 31, 2020. During this period, the Fund contributed USD 4.7 million to the World Health Organization ( WHO) and its partners, bringing the total disbursements to USD 224 million.
The report highlights the impact and relevance of actions carried out thanks to unallocated donations collected, making it possible to supply and distribute essential medical supplies, support and coordinate research related to COVID-19, but also support for vulnerable populations, in particular access to services to protect themselves from the virus. In addition, these flexible resources have helped disseminate preventative information and strengthen civil society engagement as key partners in the response to COVID-19.
From its launch on March 13, 2020 until December 31, 2020, the Fund has raised USD 239 million from over 650,000 contributors (individuals, businesses and organizations) who together support the global response effort coordinated by WHO . Collection in Europe represented USD32 million through the Swiss Philanthropy Foundation and in coordination with the Transnational Giving Europe network.
Swiss Philanthropy Foundation is honored to have been able to participate in this collective effort at the request of WHO, by facilitating donations from Switzerland, Europe and Canada to the COVID-19 Solidarity Response Fund with its partners.
---
You can help
In the fight against COVID-19, any action is important. By choosing to support the COVID-19 Solidarity Response Fund, you are helping to sustain efforts in the fight against the coronavirus and protect the lives of many people in need. The Fund is the fastest and most efficient way for individuals, businesses and organizations to support the work of the World Health Organization and its partners.
To find out more, we invite you to:
– Visit the dedicated page
– Consult the 5th impact report: Available for download.
Swiss Philanthropy Foundation © 2016