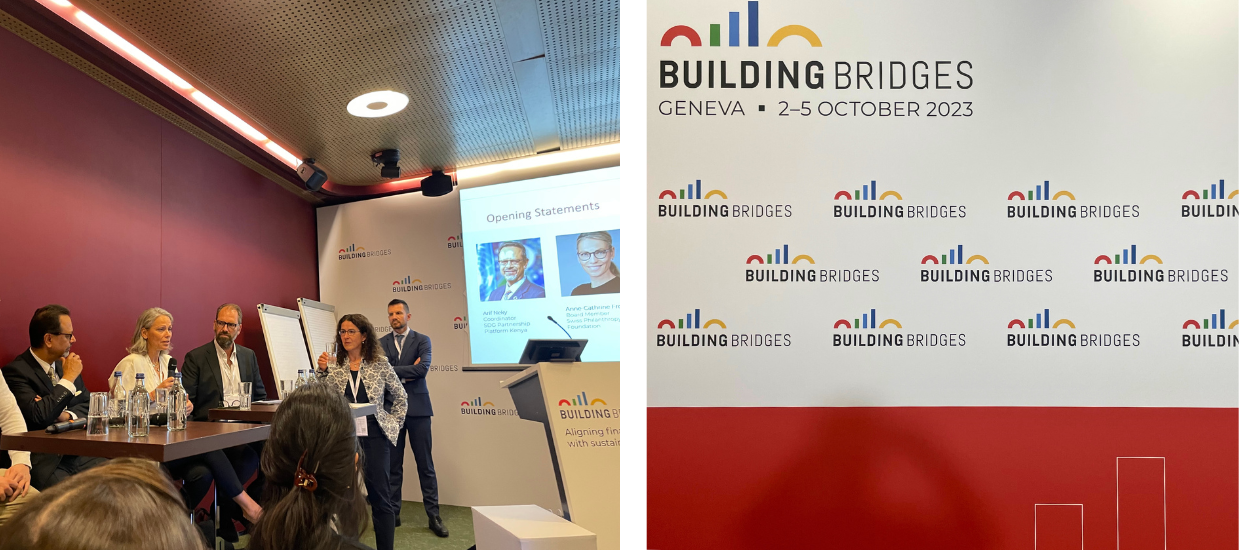 Swiss Philanthropy Foundation participated in the Summit and Actions Days of the Building Bridges conference, held this week in Geneva.
Building Bridges is a collaborative event that aims to advance sustainable finance in Switzerland and around the world, addressing the twin crises of climate and nature, worsening social inequalities and how to mobilize capital to build a just, resilient and sustainable future.
Marc Salzmann, Partnership Manager at the Foundation, took part in the rich program of this event, which brought together participants of almost 50 different nationalities.
Anne-Cathrine Frogg, member of the Swiss Philanthropy Foundation's Board of Trustees and Finance Committee, also took part in the Building Bridges Action Days program on Wednesday October 4. She took part in a workshop entitled "Idea Challenge: Solutions for Thriving Impact Investing Ecosystems". The aim of the event was to encourage discussion around the framework for facilitating social impact investing. Ms. Frogg spoke in particular about the role of foundations in the development of impact investing, whether as investors or as part of mixed financing structures. In 2022, 82% of our Foundation's assets were managed according to sustainable criteria (ESG).
This workshop was organized by the SDG Impact Finance Initiative and Swiss Sustainable Finance.
We are delighted that several members of the Foundation took part in this important event in Geneva, which opens up dialogue and fosters collaboration and synergy between participants from a variety of fields around the issues of sustainable finance and, ipso facto, the transition to a flexible, efficient and equitable socio-economic model.
Swiss Philanthropy Foundation © 2016