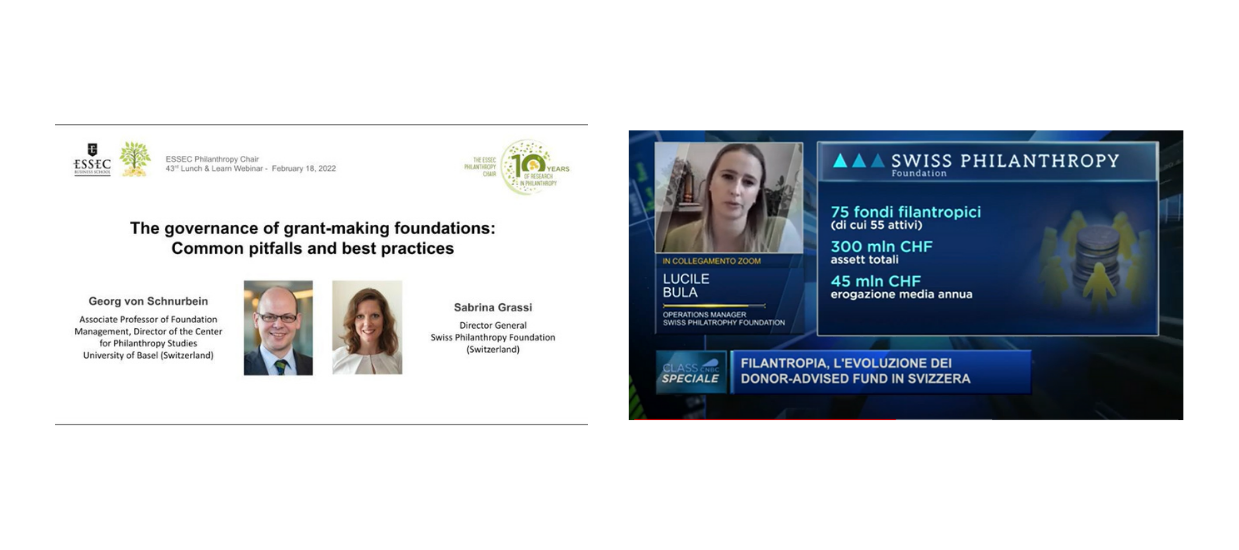 At the beginning of the year, the Foundation was represented at two public events:
Sabrina Grassi, Executive Director of the Foundation, participated in the webinar organized by the ESSEC Chair in Philanthropy "The governance of grant-making foundation. Common pitfalls and best practices", with Prof. Georg von Schnurbein, Director of the Center for Philanthropy Studies at the University of Basel. She discussed the practical side of good governance and its challenges in the day-to-day work of a hosting foundation, using Swiss Philanthropy Foundation and its hosted funds as an example.
Lucile Bula, Head of Operations at the Foundation, participated in the online event "Lo strumento nuovo per una filantropia intelligente" ("The new tool for smart philanthropy"), on the Italian TV channel Class CNBC. On this occasion, she spoke about the perception and mechanism of hosted funds in Switzerland and more specifically about the growing role of Swiss Philanthropy Foundation in the creation and administration of this type of funds and its relationship with the ecosystem of financial partners.
Watch the program again (in Italian)
Swiss Philanthropy Foundation © 2016